Solar System Design
As soon as you have accepted our quote and we have received the deposit, it is then time to begin the system design for your solar system! Here, we will bring you a rough idea of exactly how we design a solar system for you. Depending on whether you want grid-connection or not, the system design can either be grid-connected or off-grid.
The flow diagram above gives you an idea of the process involved in designing and setting up the solar system. The PV modules are set up on the roof in a nicely set array. The no-load isolator is then installed, along with the main switch for the DC array. Importantly, the solar inverter is then connected to the PV array. The rest of the system then involves the AC isolator, the main switch for the solar supply, along with the meter, which measures your solar power usage.
So you can visualize how each component is connected to each other in the system design, below is a system diagram which details the connections of the array, the isolators, the inverter, the supply, meter and the main switch: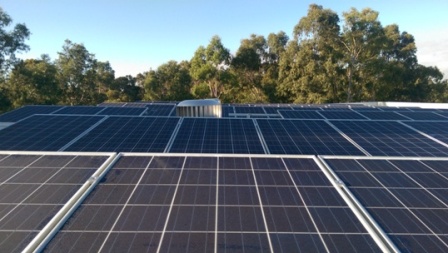 One important aspect of the design of the solar system, is looking into any potential shading issues on any of the PV modules. This is extremely important, as even if one single cell on the panel is shaded, the whole system will not perform as required and no solar power will be delivered. Why is that the case? As ea
ch of the modules are connected in series, any shading on one module will then be transferred to the next module and vice versa. The system is programmed to only supply the inverter with the lowest generated current. If the cell is shaded, no current will be generated, hence that current value of 0 amperes will then be passed in to the inverter.
You can learn more about basics of how solar works for both a grid-connected or an off-grid situation.